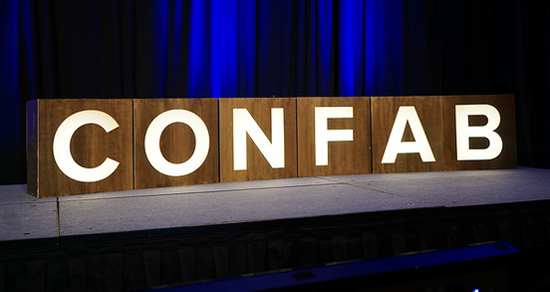 This post is nearly two years too late.
I should have written it back in 2013 after I attended Confab Central in Minneapolis for the first time. The conference had already been around for a few years and I thought that I was late to the game. I was worried that I'd come across like a real n00b, out of my league and behind in the conversation.
But it wasn't like that at all. There were so many smart people there, good people, the kind of people where the conversation just keeps on flowing on its own. I learned so much, hugged so many folks, laughed so hard I spilled my coffee (again, my apologies to the Hyatt Regency). They were so open, so welcoming—it almost felt like coming home.
But now it's 2015. I'll be giving the opening keynote at Confab Central this year. So this post is late—I should have written it back in 2013 because now you won't believe me when I tell you about Confab. You'll say I'm biased.
So let me be clear about this: when it comes to Confab, I am biased. Extremely biased. Biased like your Aunt Suzy.
But I'm not biased because they're paying me—I can't accept any payment for speaking, so instead we're making a donation to Girls Who Code, a great nonprofit with a mission I believe in.
Rather, I'm biased because the experience of attending Confab is just so amazing. And I want to share that bias with you openly, in plain sight, so that you can experience the same things I have.
Here's why you should join me at Confab Central this year. Continue reading →