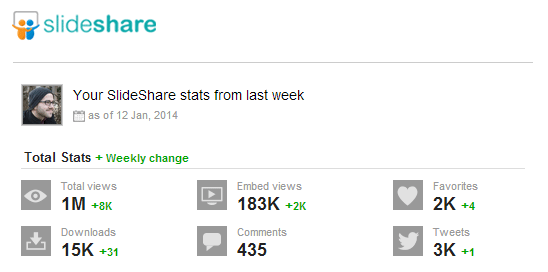 One million views on SlideShare… and counting.
Image © SlideShare
On the week of January 12, 2014, I cracked the one million views mark for my presentations on SlideShare. I'm now well on the road to two million.
I'm definitely not the first (or the only) one to reach this point. Many presentations have hundreds of thousands of views – a few even have millions. And since several publishers on SlideShare are quite prolific, there must be numerous accounts who have reached – and far surpassed – this sum.
Even so, I did a happy dance. Can you blame me? I was an early adopter of SlideShare; my first upload dates back to July 21, 2007. That's nearly seven years' worth of use. I started using SlideShare less than a year after posting my first tweet and first status update on Facebook.
You might be aware that there are benefits to being an early adopter of a nascent network. Even so, if you've ever seen me speak, then you know that a favorite topic of mine is my own non-exceptionalism. I can't think of anything I've done that anyone else couldn't do (or do better).
So I believe that with the right methods and approach, just about anyone can reach one million views on SlideShare. My goal is to help you do that.
Do great work that's worthy of being shared
Out of all of my presentations, the above talk on core values is my favorite. It took me seven years of practice to create something of this level of quality. It may not be a big accomplishment to you; that's okay – it was to me. And hopefully I can do much better work in the future.
While it should go without saying that we have to challenge ourselves to do the best we can, how would you explain why there are so many bad presentations being given so often? To understand, we have to start from a position of empathy; I think that the majority of bad talks aren't given on purpose.
Most of the time, I think that speakers are in a rush, or haven't prepared well, or are nervous, or are distracted, or don't understand how to design slides, or don't want to speak in the first place, or feel intimidated, or aren't held accountable to give a good performance, or any number of other factors and challenges. I certainly know what all that feels like; I've given bad talks under circumstances just like these.
The good news is that all of these problems can be solved, all of these weaknesses can be improved upon.
Don't believe me? Take a look at my first few presentations. I leave them online in my SlideShare account to remind me of how I started out – with no natural talent, design sense, or storytelling ability.
My recent talks look much better and have far more views and shares.
The rest of this post explains is an introduction to how I made that happen, but I'll follow up with a series of posts that gets into the details of planning and creating great presentations. Continue reading →