Update: I didn't mean for this to turn into an Oprah post ("You get a link! And you get a link! EVERYONE GETS A LINK!"), but way leads on to way… or so they say. Remember how way back in my first post I said that I made a list of people to thank, but it got too long? Well, for this post, I took that list and made it even longer. And I know that I'm still missing people, dammit.
Thanksgiving 2012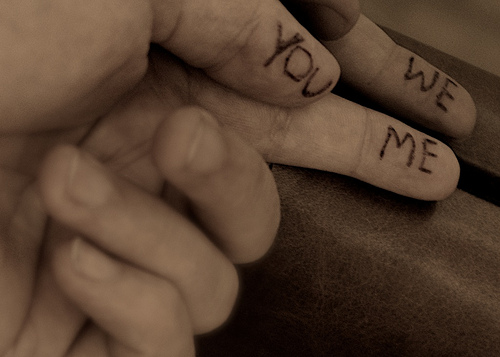 Photo by Doug Wheller (creative commons)
So it's Thanksgiving Day. Today I give thanks to:
Marja, for being so awesome in so many ways. Today she's down in the Glass Mines (our basement) preparing for the EtsyRAIN Handmade Holiday show tomorrow and this weekend, so she doesn't know that I'm writing this and brimming with energy and warmth for her. To know Marja is to love her and love her I surely do.
Prim (a.k.a., #bestdogever) for being so smart, so adorable, and so fiercely simple with her love. She's had a challenging first year with us, what with getting used to a new home and having ACL repair surgery. But she's had the patience to teach us about what she needs. She's also pretty generous with her snorgles.

My sister, Mira, for all her help, support, energy, and can-do attitude. Her organization, quick thinking, and insights have come in really handy for me and our family. Plus, I love hearing her laugh over the phone. We'll have to make that happen in person soon!
My mother, who helps keep me focused on the things that matter the most — namely, the folks mentioned in the first three bullet points!
My awesome colleagues at REI, but especially Jordan LeBaron, Lulu Gephart, Jim Schneider, and Kim Field (and The Mighty Titans of Tone). You simply have no idea what these folks put up with from me. While I try hard to be the best person to work with, I'm not always successful and these folks have borne the brunt of my failures along the way. And yet they still help me learn, grow, and get better. You've got to admire that kind of fortitude and perseverance!

The best damn marketing creative team in the business: Jason Sutherland, Craig DiPaolo, Chris Mahan, Jesse Anderson, Matt Witwicki, Justin Ryan, Julie Eiselt, Liza Tewell, Megan Finaly, and John Smallman.
My new team of content management, mirth, and mayhem experts: Heather Uekert, Stuart Maxwell, John Efta, and Isaac Pattis.
I'm especially grateful to Justin Schoen, REI's new in-house SEO, for jumping in and making a difference right away. His intuition, smarts, great attitude, and new perspectives on data are all coming in handy as we prep for a big holiday season. Go, Justin!
Eric Hess, another new addition to REI, who's heading up all things digital marketing, engagement, outreach, and content for our awesome Adventures/Outdoor Programs division. We're so lucky to have him onboard!
Samantha Starmer, now at Razorfish, for blazing the trail at REI and showing me the way out of the forest and into the clearing of information architecture.

My cohort in the University of Washington's mid-career MSIM program. With one full year of classes under our belts, we're practically like family at this point. Just two more quarters to go until we graduate — stay on target!
People who invited me to speak at their events this year (in chronological order): Scott Hendison and all the good people at SEMpdx; Lori Hawthorne and colleagues at Worldwide Business Research; Rhonda Hanson and the great team at ad:Tech San Francisco; Rob Ousbey and his mad geniuses over at Distilled–Seattle; Shauna Causey, Joann Jen and the fine folks at Social Media Club-Seattle (via the amazing Sara Grace Lingafelter); Vanessa Fox and Danny Sullivan and his amazing team at SMX/Third Door Media that puts on SMX Advanced in Seattle; David Mihm for Local University; Jessica Bowman and her In-House SEO Exchange; Misty Weaver, James Callan, Scott Pierce, and Vanessa Casavant with the Seattle Content Strategy Meetup; Erica McGillivray, Abe Schmidt, Laura Lippay Jamie Stevens, Rand Fishkin, Roger MozBot and far, far too many people to name at SEOmoz; Kerry-Anne Gilowey, Rian Van Der Merwe, Irene Walker, Nathan Blows, Keri Maijala, and everyone from the Content Strategy Forum 2012 in South Africa. I sincerely hope that I've given these folks and their audiences even half as much as they've given me.
Amazing folks in our local & virtual communities who inspired me with their friendship, mad skills, amazing insights, fantastic services, and/or deep generosity: Kane Jamison, Krystofer Glover, Mike Pantoliano and Space, (The) Kate Morris, Rob/Stenton Toledo, Kristy Bolsinger, Ruth Burr, Jen Lopez and Rudy Lopez, Joanna Lord, Ashley Tate, Kate Matsudaira, Rachel Lovinger, Margot Bloomstein, Kristina Halvorson, Cleve Gibbon, John Alderman, Kate Kiefer Lee, Sara Wachter-Boettcher, Meghan Seawell, Dan Klyn, Andrea Resmini, William Jones, Marianne Sweeney, Adam Audette, Aleyda Solis, Wil Reynolds, John Doherty, Michael King, Ed Fry, Conrad Saam, Susan Moskwa, Maile Ohye, Rick DeJarnette, Justin Briggs, Ross Hudgens, Mike Arnesen, Duane Forrester, Brian Klais, Brian Rauschenbach, Ian Lurie, Monica Guzman, Lauren Hall-Stigerts, Kristy Graves, A.J. Kohn, Steve Souders, Ben Wills, Jim Ewel, Greg Meyer, Scott Brinker, Todd Shimizu, Sara Mooney, Chad Dickerson, Kellan Elliott-McCrea, Danielle Brigida, David Connell, Rick Riehle, Kevin Brighton, Sheila Goold, Amanda Brothers, Marc Duyungan, Heidi Herr, Neal Yakelis, Jason Skipper, and Sean & Rachel Dreilinger. I'd love to get you all together for a group hug, which is, in fact, now legal under Washington State law. Actually, it's required.
Family and friends in faraway places: Kirsti, Matti & Marcia, Kiira & Joe, Ian, Robbyn & Tom (and Ben T.F.), Naomi, Chuck, Lorinda and Katetholomew, Bill & Jeanne, UB & AB, Sarah & Erin & Debs and their families, Scott & Rishona, Aaron, Joel & Diana.
I'm so sorry if there's anyone whom I've forgotten, but in short, I'm thankful for all of you. Thank you so much for your help and support, kindness and authenticity, strength and caring.
What can I do for you this year? I'm all ears.