UPDATE: Falcão Ruíz of WebMark SEO (follow him at @FalcaoNoMore) has translated this post into Spanish. How awesome is he for doing that? Extremely awesome. Gracias, mi amigo!
While prepping to speak at last month's Content Strategy Forum, I reviewed a number of sites and blogs across the online production, design, architecture, and content strategy industries. Among other things, this made me reflect on the state of writing and discussion across the SEO and Inbound marketing blogosphere.
Which, in turn, leads me to ask: where are the SEO/Inbound sector's equivalents of journals like A List Apart, Boxes and Arrows, or Contents?
These are the ABCs (ha, literally!) of the online creative/editorial/publishing world. You've probably at least heard of A List Apart, but the other two are just as fantastic, if not more so, depending on your area of focus. And they're part of the canon for information architects, UX designers, online writers, and content strategists. Click through those links above and explore the writing you find there. If you haven't seen them before, then I promise that you're in for a real treat. Go ahead, I can wait.
What? You're back already? If you only took a cursory glance at an article or two and then immediately came right back here, then something's gone very wrong.
You were supposed to get lost in there! I mean, this is only the fourth post on this blog and the last one was just a big ol' list of links. To be honest, I've got nothing but drunk poetry here, more than half of it written by #bestdogever on a kibble binge. But those sites have real words, written by real writers, edited by real editors, published by people with real passion.
You know… content.
Here's my hypothesis as to why you bounced back: (or didn't even leave in the first place) you've been overly incentivized to skim articles and glean quick tactics from blog posts with titles like "Top 10 Ways To…" or "3 Tips For…" or "Best Practices in…". In other words, content without content. But what happens when you unexpectedly encounter real content containing all sorts of new ideas and complex thinking? Writing that's subtly nuanced and that may take more than a minute or two to unpack, deconstruct, and understand? Well, that presents something of a challenge.
I know this sort of writing certainly challenges me… and that's why I like it. We are what we read, after all. But for an industry that's fond of stating that "Content is King," we sure aren't investing in a lot of high-quality content.
Have you noticed how pervasive this highly tactical yet not-quite-real content is across the online marketing blogosphere? It's everywhere, like glitter at a craft show or like zombies in my Netflix queue. And even when it's not Top X lists, the state of content in our community still tends to be poor. So much so that Richard Falconer just did an awesome job of curating and parodying a bunch of hilarious (and real!) articles about what [insert random topic] taught me about SEO.
These shallow, quick-learnings pieces seem to make up the bulk of the content that we, as an industry, tend to produce… and to consume, if we're not careful to balance our diet with something more substantive. And sure, there's obviously a place for this kind of writing within our community; many of the individual posts aren't bad in and of themselves. Several are thoughtful, helpful, and insanely useful. It's the overload and over-reliance on the form that I'm citing as a problem here, not the individual instances of the genre.
Because if all we talk about is tactics, if all that we write about are tips, if all we share and discuss is easily digestible content, then we create a series of core problems for ourselves and the online marketing industry as a whole. But mostly we just create poor communities.
Here's why.
Obfuscation
Which one of those "10 Best Ways to…" articles should I trust when there's a plethora of them all covering the exact same material?
If I were new to the field and became interested in, say, content marketing, then when I searched for [how to make an infographic], which one of those articles would I pick? They all look the same to me, and I'm relatively well-educated on the topic. How would these results look to someone new to the field?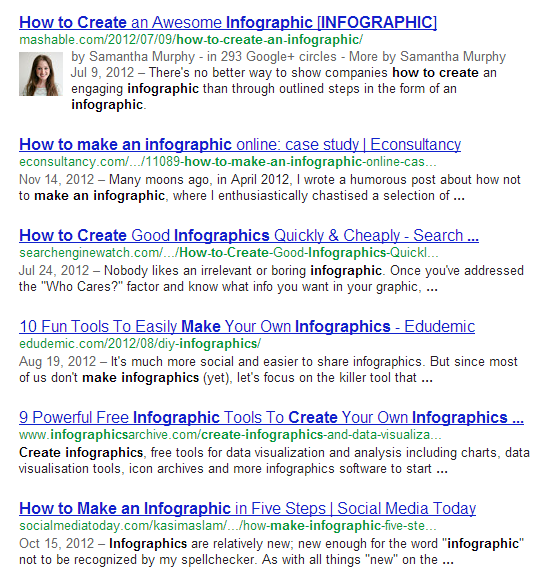 Now sure, I know that TrustRank, personalization, authorship, creating click-worthy titles/descriptions, and tons of other factors all come into play here… but that's exactly my point! As a new practitioner, I wouldn't necessarily know about any of that. And so the paradox of choice would probably have a negative impact on my learning. At the very least, it would take me longer to learn and make an informed decision than if I had fewer choices (but ones that were more trustworthy and authoritative).
And if it's that hard to learn about the simplest tactics, then how would I go about approaching an education in the more complex strategies? Or their foundational theories? This is the case where having multiple versions of the same content actually serves to obfuscate their meaning and value.
Sure, I can learn about A/B testing tactics from just about any CRO blog on the planet. Armed with those tips, I can create a simple set of test experiences in order to reduce my bounce rate from visitors arriving from organic search. But what if I was instead exposed to Marcia Bates' groundbreaking 1989 paper on 'berry-picking' behaviors in online search? I'd walk away with a much richer systems-based understanding of human experience and be in a better position to create my own strategies instead of relying on others' tactics.
Most importantly, I'd be able to determine what's authoritative on my own without relying on a Google algorithm. I think you'd agree that's a good thing.
It's the difference between giving someone a fish and teaching them how to fish. Or, better still, how to build their own boat and navigate the oceans.
This is what SEOmoz does so well. They don't just publish a blog, they curate useful and meaningful content from and for the community. I know from talking with some of their Associates that they go back and update Q&A, articles, and other resources as things change rather than republishing them over and over again. And they provide authoritative resources that help grow the industry and its trustworthiness. And they celebrate new voices by giving them a platform and audience where they can easily contribute to the conversation. And each year they bring the brightest minds together for one of the best conference experiences in the industry.
More like this, please.
Epistemic closure
Epistemic closure occurs when we only listen to ourselves and stop taking in new empirical information from outside sources that might challenge our views, our fundamental assumptions about what matters to users, or to our work in general.
This sort of closed-mindedness creates a gap in our knowledge that negatively impacts our brands and clients — we go for the shortcuts and quick wins to get clicks instead of doing the hard work of creating experiences that work. If we only listen to ourselves, then change and evolution becomes difficult because we're no longer being challenged to learn. We quite literally don't know what we don't know because we've spent too long in the echo chamber.
I don't think anyone would describe the SEO/Inbound community as one that doesn't celebrate learning; of course we do! It's a huge, foundational part of the way most of us enter the field and grow into the profession. But I think to keep moving forward, we need to be more inclusive and open the community even further to include new disciplines and viewpoints. And we need to challenge the community to produce higher-quality work that's sourced from folks outside of our walls. We need new voices in our community in order to best tackle new issues that matter.
No offense to anyone, but when I see the conference panels composed of the same 20-year veterans of SEO debating what may or may not be blackhat links, PageRank sculpting with "nofollow", Panda 3.8.11, or whatever for the umpty-umpteenth time, I tune out because of the lack of novelty and new, original thinking.
Oh, behave… Of course I'm not saying that they're not smart or accomplished (they are!) or that their thinking is somehow flawed (it's not!) or that their experience is irrelevant (no way!) or that I should be on the panel instead of them (I shouldn't!)… it's just that we're talking to ourselves again.
That's the problem we need to solve if we want to keep learning and evolving along with the rest of the world.
The absence of discussion
Anthony Pensabene brilliantly pointed out our lack of comments on quality writing earlier in the year. He did a great job of challenging our community to do better, providing several examples of posts that seemed to be challenging and well-loved, but that didn't actually generate discussion.
Others have similarly cited that we're incenting visitors to "Like" or "+1" our content without actually consuming it. Or even if it is consumed, we're driving those people away from commenting. Or even if people comment, those comments are largely empty praise, empty trolling, or simply void of value altogether; they certainly don't move the conversation forward or create new knowledge and learning in their own light.
When writers challenge themselves to deliver brand new thinking on a complex topic, to synthesize something brand new from multiple and highly technical sources, I think that, as commenters, we need to meet them at their level. It's worth everyone's time because that's how people learn, that's how ideas get shared… and that's how a community grows.
More recently, Rian Van Der Merwe challenged us to make the Internet better by improving the state of our discourse. I'm as guilty as anyone of avoiding The Bottom Half of the Internet, but I want to challenge myself to do better, dammit. Part of it (for me, at least) is getting over shyness and finding new ways to tackle introversion. But another part of it is encouraging discussion through active participation and re-thinking what sorts of actions that we incentivize our community members to take.
Ed Fry and the Inbound.org moderators are talking about this quite a bit; our goals aren't focused around stories posted, shares, votes, etc. They're centered around engaged use and learning, creating knowledge and driving discussions with literacy. How do we build the kind of community that values rich discussion in the way that Hacker News has achieved?
We're working on it… but we need your help.
Valueless meetings and conferences
Michael King's excellent post gets at the heart of the tactics vs. strategy debate at conferences. To be direct: if you can get all the tactics that you need from the blog posts, then why would you ever pony up $1,500 to go to some conference and have someone shout those same tips and tools at you while you drink bad coffee? Not to mention spending another $1,000 for airfare and lodging? As a hard-core introvert (and not to mention as a cheapskate), it would be difficult for me to justify paying that much just to network; the ROI would simply be too low for me.
But I'd certainly pay that much — and much more, even — for strategy, for insight, for challenging new ideas that have the impact of changing the way I work forever. Because if you can change the way I work, then you'll fundamentally change who I am.
Want to see what it looks like when that happens in real life? Check out Jesse James Garrett's amazing closing plenary from the 2009 IA Summit. This is what it looks like when you change who people are and how they work forever. Look at their faces; he's disrupting the way they consider their work. He's making them question themselves, something that they wouldn't have done without his provocation. That's the power of strategy. That's the power of insight. And it's worth paying for.
And if I can get that to happen for just $2,500 and less than one week's worth of time? Hell, that's a Cyber Monday bargain.
Folks like Peter Morville, Louis Rosenfeld, Samantha Starmer, Kristina Halvorson, Rand Fishkin, Scott Brinker, and a (very small) handful of others have done that to me, including the people at A List Apart. Part of who I am and how I work can be traced directly back to them. And that's a good thing; I know that I'm standing on the shoulders of giants and I want to be transparent about that.
So I challenge myself to bring that kind of value when I speak. And I acknowledge that I have not been nearly as successful thus far as I'd like to be. But I'm trying. Hard. And I challenge you to do the same when you speak, when you write, when you comment on the writing of others, and when you interact with the people whom you care about most.
Which brings us to our conclusion.
It's time to commit
None of this has been entirely new thinking. Wil Reynolds pointed out similar issues in his groundbreaking talk on Real Company Shit (RCS) at MozCon this year. Tom Critchlow also hit on this theme at the same show while speaking extemporaneously (and thoughtfully) for over half an hour using only a single slide.
Bottom line: producing Top X lists isn't going to be enough if you want to do RCS. Designing infographics about infographics isn't going to get you speaking gigs or a book contract. Writing hundreds of articles to fill in the long tail of the online marketing keyword sector won't establish your agency as an authority, nor will spinning another site's content ever make you famous.
Moreover, my strong suspicion is that the traffic these tactics will win you is just as empty and low-qualified as the content itself.
Attacking someone who has the temerity to suggest that maybe, just maybe, guest-blogging has it limits as a strategy won't change how the outside world sees SEO and Inbound marketing. Or how they perceive the people who do this work. And it certainly won't increase our ranks of practitioners or make us feel any better about sharing our knowledge with others.
Nor will it create a strong, engaged community of practice like A List Apart that can engage in long-form conversations about emerging ideas; conversations that expand the territory of these practitioners' disciplines; conversations that change people's lives because they fundamentally change who people are.
You know… RCS.
We need to move beyond click-bait and link-bait if we're going to change people's minds about this industry and its practitioners. And, much as I love my metrics, we also need to move beyond the usual KPIs in order to measure real engagement and value. We need to be willing to sacrifice a short burst of attention to individuals in order to achieve sustainable, durable participation and conversation that includes everyone.
TL;DR? We can do better than this. And we must, if we want to continue doing what marketers have always done: change perceptions.
And I know that changing hearts and minds begins at home. Last week on Thanksgiving, I wrote about who I'm thankful for. And now I'm working on my new year's resolutions. One of them will be to create valuable, original content and to bring value to all of my conversations, both online and off, with audiences large and small in order to build a better community.
I invite you to join me in this resolution right now by clicking the box below.
This isn't a real HTML form, of course. Clicking the box doesn't submit your name to a database. Or even to my inbox. I don't have click-tracking in place or anything to tell me whether anyone clicks it at all. So no one will know if you click the box.
Except for you. You'll know. That's the point.